- The easiest way to expand this trip would be to add on coastal links to the beginning and end. The long 30 km
bikepath
that starts just past Tojimbo on the Echizen route leads all the way to Kanazawa, when you can change seamlessly to the Noto route (very easily if you just continue on along the coast - saves the time and trouble getting in and out of Kanazawa).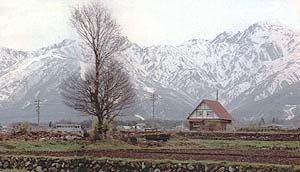 - On the other end, you could continue up the coast as far as Itoigawa and then head inland to
Hakuba
in the Japan Alps -- one of Japan's premier ski resorts in winter but a nice place to visit at any time of the year -- especially in the spring, when the mountains will still have snow on them, or autumn for the fall colors. And of course it will be cooler there in the heat of summer... For more information, see the
Hakuba
route on this site.
- Other places in the Japan Alps are equally close.
Shirakawa
, an entire village of traditional steeple-shaped thatched-roof houses, is an easy day's ride from Kanazawa. As far as I know, the very pretty road over the Bunao-toge pass is still being repaired, but there are other (and quicker) ways to get to the area. Once you're there, Hida Takayama is only another pass away (though that road is closed from late autumn through late spring).


- Lastly, if you're truly ambitious, you can cycle up the coast past both Toyama and Itoigawa to Naoetsu and take a ferry to the still-isolated island of Sado. Among other things, this is the home of the world-famous Kodo drummers, and the Earth Festival is held here every summer, attended by hundreds if not thousands of people who camp in tents on the beaches and attend nightly concerts by the Kodo drummers and other musicians from various world music genres. It's quite an experience, and worth doing at least once.